I know it's not even December yet, but I've been feeling a little bit weepy and thought that a little Christmas cheer was in order. Of course, I didn't bother to be all cultural and politically correct or anything with this look. WHATEVER. Christmas is green, red, and gold. That's it, it's done, it's over.
I have heard that purple/lilac lips are totally in right now, so I did provide that option, hahah. What can I say? I'm a desperate acceptance-seeker.
Get the cheesy Christmas look.
Face Gunk:
1. Bare Escentuals Prime Time
2. Make Up For Ever Concealer Palette No. 5
3. Nars Firming Foundation
4. MAC Studio Sculpt Concealer
5. Palladio Oil-absorbing Rice Powder
6. MAC Blush in Her Blooming Cheek
7. MAC Fix+ Spray
Eye Gunk:
1. E.L.F. Eye Primer & Liner Sealer (primer end)
2. MAC Eyeshadow in Cork
3. MAC Eyeshadow in Espresso
4. theBalm Overshadow in No Money, No Honey
5. MAC Eyeshadow in Ricepaper
6. Prestige Eyeliner in White
7. Prestige Total Intensity Eyeliner in Deepest Black
8. MAC Pearlglide Intense Eyeliner in Undercurrent
9. Nars Larger Than Life Volumizing Mascara
Eyebrows…
10. Wet 'n' Wild Kohl Brow-Eyeliner in Taupe
Lip Gunk:
1. MAC Lipstick in Courting Lilac
2. Wet 'n' Wild Creme Lipliner in Berry Red
3. MAC Lipstick in Russian Red
MAC A Tartan Tale Mini Haul
Undercurrent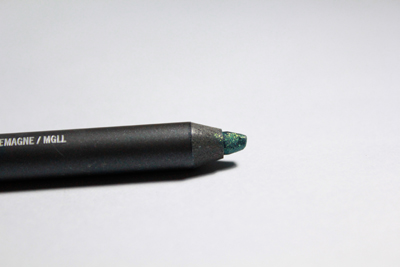 I usually don't even like glittery eyeliners, but this was just so beautiful. It's very pigmented; you won't need to go over your delicate skin multiple times with this. It glides on like a dream, and won't budge unless you want it to, in which case, you have to smudge it before it totally adheres to your skin. It comes right off with makeup remover. People with sensitive eyes probably won't be able to use this on their water line though, because of the glitters. I don't even have sensitive eyes, and this made me tear up a bit when I tried it on my lower water line.
Her Blooming Cheek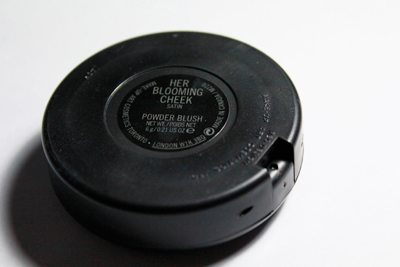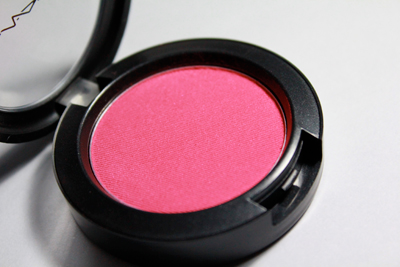 My friend told me this was the exact shade she turned during winter. Now, we don't have winter here, and my skin tone is warmer than hers, but I can totally see what she means. This gives me that rosy glow that makes me look… happy and cheerful. I imagine this would be absolutely BEAUTIFUL on cool light skin tones, as it mimics that flush some people get when they get hot, cold, or embarrassed. It's very, VERY pigmented (like a Nars blush), so use a not so dense brush like the MAC 187 and a light hand when applying.
Courting Lilac
You saw it in the video, right? It's SO SO SO PRETTY. This is definitely not your typical lilac lipstick. It's a glaze finish, so it's not as sheer as MAC's lustres. The gold shimmer just makes it so much more fun than a lot of the cool lilacs I've been seeing around. I hear that purple lips are totally trending this "fall/winter," and I can't say I'm getting on that bandwagon because WE DON'T HAVE FALL/WINTER here; we only have "inferno scalding" and "dehydration hot." All I know is that I like plums and lilacs, and this lipstick just happens to be a really good example of the latter. There's nothing special about its staying power; if you don't disturb it, it'll stay where it is. If you eat, your lipstick wears off, and you have to reapply. It's not rocket science.
Swatches

Left to right: Her Blooming Cheek, Her Blooming Cheek (blended), Courting Lilac, Undercurrent
As for the rest of the collection, eh, they were all right. Some were probably just as excellent as these three things, but I can't be buying everything that I think is pretty now can I? I would've gotten all the other Pearlglides, if I could. The packaging of the other stuff was really ugly. Sorry! Do not want all that tartan in mah gunk. The eyeshadows were the ugliest effing eyeshadows I've ever seen in my life- just the packaging, though! I hear some of them were really pretty when applied and when that first layer of plaid got brushed off. Of course, the brush set was terrible. Those things are never worth the money anyway.
There you have it. My Christmas-Cheer-Me-Up look and mini haul. Hope you enjoyed. If I annoyed you with this all too early holiday spirit, then you can just GO AND SUCK IT.
Happy holidays! When they're REALLY here!